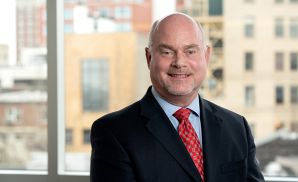 David Darden

|

Senior Vice President, Client Services
David was born in Bedford, Virginia, which is a small town in the western half of Virginia. He attended the public schools and went on to earn his bachelor's degree in Biology from Hampden-Sydney College, a small, private liberal arts college located in south central Virginia. He worked in various jobs in Virginia and in Colorado after college. He decided to pursue a career in hospital administration and returned to Roanoke, Virginia to work in Carilion Health Systems, the largest not-for-profit hospital system in the state.
David attended Trinity University in San Antonio, Texas where he earned his Master's degree in Healthcare Administration. He returned to Roanoke where he continued his training and employment with Carilion Health Systems. He has forty -one plus years in healthcare management in North Carolina, West Virginia, Florida, New Mexico and Virginia. He has served as the Chief Operating Officer and Chief Executive in not-for-profit and for-profit hospitals ranging from 25 beds to 369 bed facilities in rural communities. He worked with a national physician practice management company and is currently the Senior Vice President of Client Services for MedStream Anesthesia, PLLC, a national anesthesia management company based in Asheville, North Carolina . He has remained committed to professional development and earned the status as Fellow of the American College of Healthcare Executives.
David has been active in many community and charitable organizations. He has served on the boards of local Chambers of Commerce, the United Way, the American Red Cross, the American Lung Association and two state hospital associations. He has been and remains active in local churches of the communities in which he has lived and now lives.
Credentials
Executive Director, Greenbrier Clinic, White Sulphur Springs, WV
CEO, Raleigh General Hospital, Beckley, WV
CEO, Clinch Valley Medical Center, Richlands, VA
COO, Memorial Medical Center, Las Crucs, NM
CEO, Bartow Memorial Hospital, Bartow, FL
MHA, Trinity University, San Antonio, TX
BS, Hampden-Sydney College, Hampden-Sydney, VA
Fellow, American College of Healthcare Executives, Chicago, IL
Regent for Virginia, American College of Healthcare Executives